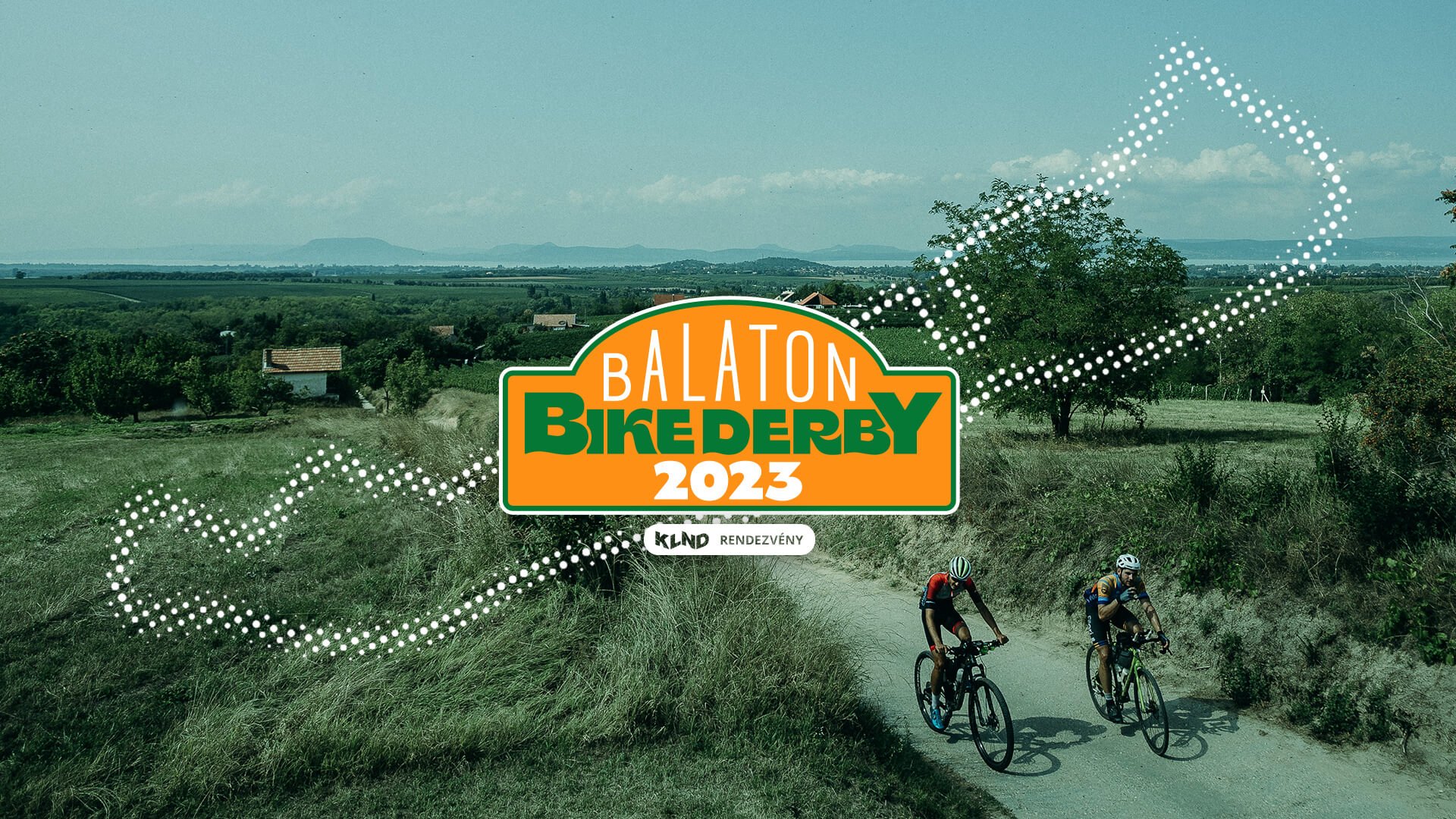 Balaton round with extras: the Balaton Bike Derby!
Hungary's longest gravel event awaits you with beautiful panoramas, romantic vineyards and brilliant forest trails. A real joy ride! It is an alternative Balaton loop, without the crowd of tourists, full of experiences.
Between 25 and 28 August 2023, the biggest Balaton bike adventure of the summer will return with E-bike and pairs participation in addition to the traditional and individual categories.
WHAT DOES THE TICKET PRICE CONTAIN?
→ A carefully planned route of around 380 km, guaranteed to be a great experience.

→ A FollowMyChallenge tracker, where your friends and loved ones can follow you 0-24, and where you can see who's around you. You can get last year's tracker replay by clicking here .


→ A goodie-bag with useful accessories and presents from sponsors
→ Refreshments at 2 points along the route and a hot meal + drink at the finish


→ Unique finisher's merch


→ Photos of the event
CATEGORIES AND TICKET PRICES
ENTRY AND TICKET PURCHASE
BALATON BIKE DERBY ENTRY LIST
IMPORTANT INFORMATION
FREQUENTLY ASKED QUESTIONS
What training / biking skills do I need to participate?
The terrain: The Balaton Bike Derby route leads mainly on terrain, mainly on wide, relatively easy roads. The proportion of sections where advanced technical skills are required shall not exceed 2% of the total length. Since this is not a race, many people get off in these parts with safety in mind and push the bike with noble simplicity.
Ascenders: There are about 10 short, steep ascents on the route that assume a lot of effort, with cyclists starting there having to push the bike. These sections are marked in advance in the route file so that you can prepare individually / as a team.
In a team: a basic level of training is required, it can be accomplished with peers by anyone who has the right bike. You can read about recommended bicycle choices in another question.
Individual: advanced cycling training is required, approx. You need to be able to cover 90 km per day.
What kind of bike do I need?
At the Balaton Bike Derby, we recommend starting with a bike with at least 35-40 mm wide tires. The wider the tire, the better the comfort. The most comfortable solution is a mountain bike with 2 "(50mm) tires. The gravel bike is also very popular and is also suitable. We also recommend 40-45 mm tires.
What is the doubles category? How does it work?
The pairs category is simple: you will be given a tracking device (GPS tracker) which you must carry around the course together, no switching. You will appear as a team on the GPS tracking page of the event.
Where can I find the detailed rules of the event?
The preliminary manual of the Balaton Bike Derby will be sent out to the starters approximately before the start of the event. 30 days.
Can it be a traditional bike and an E-Bike within a team?
Yes, however, teams in which at least one pedelec E-Bike participant will qualify as an E-Bike team.
If we start as a team, do we have to nominate individually or together?
In the case of a team start, it is necessary to appoint a team captain who will handle the entry-related administration, including the payment, for the entire team. After a successful team entry, the team captain will receive an email with instructions on what other team members need to do. You can find a more detailed description in the team tickets.
I can't find the Solo and Tour categories. What happened to them?
This year will be no separate categories for racing. We will start as 1 big peloton, and drafting is allowed. Participants who handle the event as a competition can ride with others this year. Drafting is allowed.
Where does the derby start and when will the route be final?
This year's start and finish will be announced in the spring. The route is still being planned, but we can tell you that it will largely cover the route of the 2021 Derby. Final route, downloadable gpx file is expected at the end of the licensing process, early August.
What are the cancellation policies?
If you are unable to attend the event, please indicate this in writing to hello@klnd.eu with a reference to your order ID.
– We will refund 100% of the ticket price within 14 days of purchasing the ticket
– After that, we can no longer refund, but tickets can be transferred to another rider.
We will only do this by email confirmation, please do not initiate this by phone / in person.
I have a question that I did not find the answer to either on this page or in the manual. How can I reach you?
We are waiting for your question to the e-mail address hello@klnd.eu, we will try to answer it as soon as possible.
PARTNERS OF BALATON BIKE DERBY